We Are Getting Organized 10-10-15!
Readers yes,
I am pissed about the attack
that's being leveled against the pastor and the minister. What if everyone who can quote scriptures, bible packing brothers and sisters do their part in our community then we wouldn't need to unity with other outside the Christian faith? Wake up our people are dying!
The
gathering the other night
was not one of religion, but one of crisis. Folks, in my comment section quoting scripture left & right but I would like to know if you are equally yoked with everyone you deal with on a daily basis? If you cannot answer yes to that question then you are a HYPOCRITE.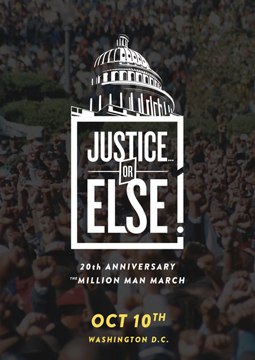 We can say what is needed in our communities, but we won't raise a finger or hand to get involved. It's sad that people will knock other for what we should be doing as a church and people. #
BLACKLIVESMATTER.
And, this is for all those who are carrying the water for right wing media and spreading lies about Min. Farrakhan. When the minister spoke last month at ST JOHN BAPTIST in Miami Florida he did not call for 10,000 men to rise up and kill white folks.
He said he's looking for 10,000 fearless men who can say death is sweeter than continuing life under tyranny. To live and bury our children why the white children kill us and get a hamburger. Death is sweeter than us watching us kill each other. He said if the government will not intercede on our behalf then we need to step up and kill those who kill us. The right wing media is trying to make it sound like he just said go out and kill white people. That's not what he said.