The Word Network Is A Religious Network, It's Not A Christian Only Network!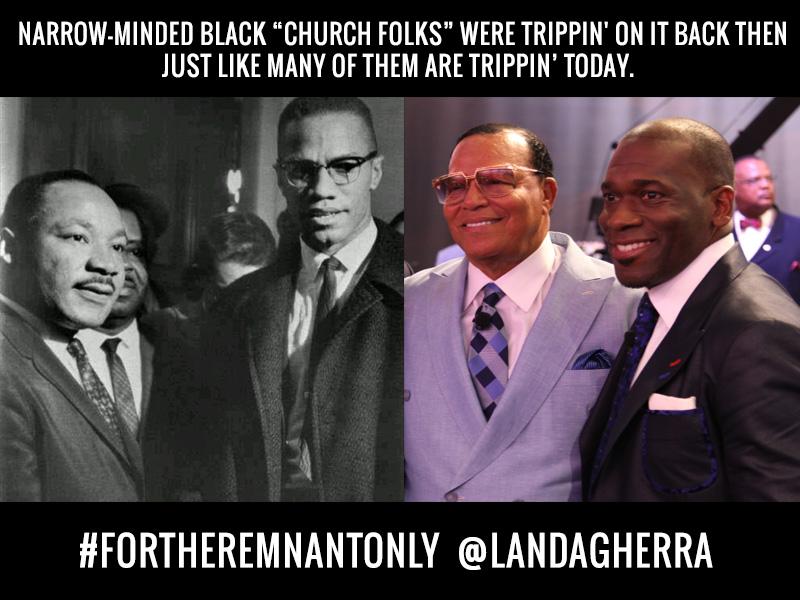 Readers, in my opinon, some white conservatives will work with evil people from all sorts of religions all day long to advance their agenda and cause. But as soon as they "THINK" people of color are doing the same thing they want to call them out for it. It's a double standard. I am glad that Dr. Jamal Bryant and The Word Network invited Minister Louis Farrakhan to the program.....which by the way set off a firestorm
among the Christian Right.
Way, before black people, are even seen as a Christian or Muslim in America we have to deal directly with social injustice, that's a fact. So called leaders that have a problem with the unification of black people on issues that directly affect us (especially when they have been completely silent) they need to shut up which is what they were already doing. Now all of a sudden, everyone is focusing on Minister Farrakhan being on the word network and questioning Pastor Bryant faith. Two men of different faiths, who were men enough to come together for a bigger cause called LIVES.
If all lives matter, then what difference does it make when they are seeking the same ANSWERS. JUSTICE for all doesn't have a color or specific belief. I DONT SEE anyone else trying to move anything but their mouths. Come with solutions or keep the speculations to self. Jesus sat with sinners and tax collectors for one purpose. We are ALL Gods children no matter what our current walk in life is. If you think Pastor Bryant and Minster Farrakhan is going about it wrong pray for them. AT LEAST THEY ARE TRYING TO DO SOMETHING!
I like to believe God prefers unity when it comes to injustices of people. However, we do not have to all agree about our faith in order to work for a common cause. The Word network is the largest African American
"religious network"
in the world. I'm assuming religious mean all faith. It was founded in 2000 by Kevin Adell and his father Franklin Z Adell.
Various ministries

,
Christian focused television line up and gospel music are featured.