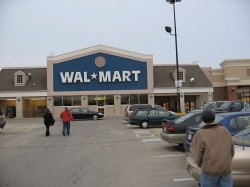 If you're not anchor in Jesus you will
without a doubt
surely drift away....When I saw the interview of Walmart CEO Bill Simon I thought of that old gospel song.....Walmart love the middle class enough to give us a warning about the coming inflation......CEO Bill Simon told
USA Today
that inflation is "going to be serious".
"We're seeing cost increases starting to come through at a pretty rapid rate."
Please!! I will believe walmart, when they start closing down stores until then I'm not buying that lie....These crooked American businesses will do any thing to get Obama out of power.....All these high gas prices and high grocery prices are just a con to make people vote Republican for the next president....I remember doing the last election cycle gas went down to around $1.50.....That's proof that the oil price is being manipulated at will....I will always believe Wal-mart contribute to the destruction of the American middle class.....If Walmart really care about the middle class they would have more local suppliers....Walmart been in the bed with China too long for people not to have notice.