Church Announcement: Dr. Aretha Wilson, R.A.W. 2015 ABLAZE WITH PENTECOSTAL FIRE!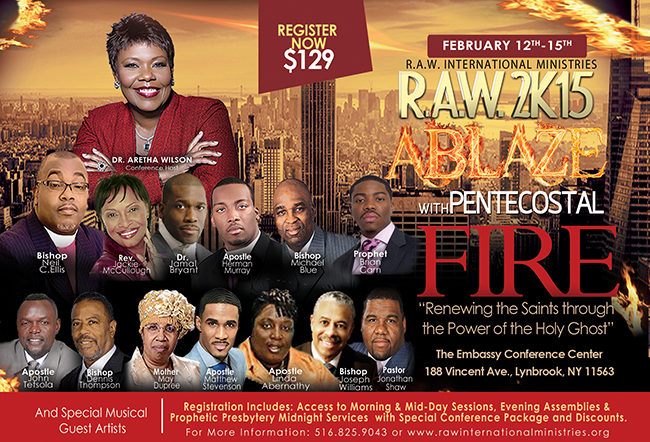 I like
Dr. Aretha Wilson
theme for R.A.W. 2015, "RENEWING the Saints through the Power of the Holy Ghost."COME TO R.A.W. 2015 WITH GREAT EXPECTATION! LOOK FOR GOD TO RENEW, RESTORE, REPLENISH, REESTABLISH, RECOVER, MAKE THINGS NEW AGAIN IN YOUR LIFE THROUGH THE POWER OF THE HOLYGHOST!
The word RENEW means:
1. To begin or Take up Again; Resume.
2. To make Effective for an additional period
3. To Restore or Replenish:
4. To Do Again
5. To revive; reestablish.
6. To recover (youth, strength, etc.).
7. To restore to a former state; make new or as if new again.
R.A.W. 2015,
Bishop Neil C. Ellis
,
Rev. Jackie McCullough
,
Dr. Jamal Bryant
,
Apostle Herman Murray
,
Bishop Michael Blue
,
Apostle John Tetsola, Prophet Brian Carn
and Many More Anointed Men & Women of God! One Place, One Gathering -->> R.A.W. 2015: ABLAZE with Pentecostal Fire, Feb. 12-15, in Lynbrook, NY - You Don't Want to Miss It.