Do You Think Brittany Maynard, The Young Lady Who's Terminally Ill Is Being "Brave" By Ending Her Life or "Selfish??!?!?
That's not my question but instead a question pose by Comedian D.L. Hughley,to his Twitter followers. Even though I can't say that I agree with Brittany Maynard decision here.....my heart is without a doubt with her and her family and I do wish them the very best.
Everyone is talking about, this young lady, a story which has gone viral. Brittany Maynard, a terminally ill 29-year-old diagnosed with brain cancer, shared her literal dying wish in an eye-watering YouTube video posted Monday. You may have read the poignant & powerful,
CNN front-page story
of cancer patient Brittany Maynard, 29, who has scheduled her death for Nov. 1?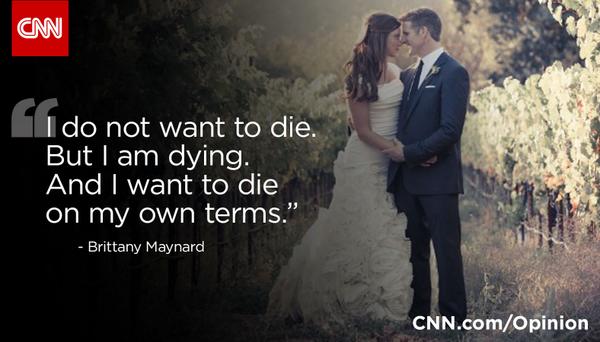 Come November 1, Maynard plans to take a pill given to her by her doctors as she wants to choose her own death and avoid hospice and the suffering her brain-tumor cancer may entail she revealed that she will take her own life November 1, 2014. Some are saying, we all should have the right to die with dignity, and not have others artificially keep us from a natural death against our wills. Do you agree?