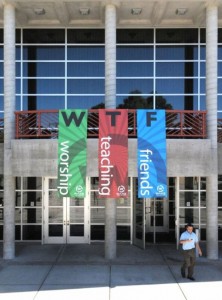 We don't need more gimmicks to draw people to the church.... And I don't care what the banner says, WTF doesn't stand for Worship Teaching and Friends, it stands for What the F*ck....It is what it is.
Seriously we all have said WTF in our head at one time or another....But for a
college
Christian ministry's to use it in a banners as a marketing tool is just wrong
....
As a Christian I'm wondering why the leaders of this ministry would even entertain this idea....This is nothing more than another gimmick that is not working.
What ever happen to renewing of the mind?What every happen to holding up Christ as the banner?