Are Children Called To Preach?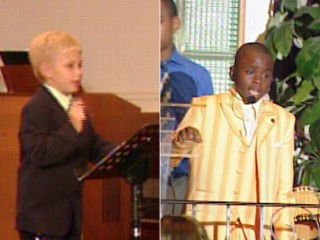 I rather see a child soldier than a child preacher...WOW! that's a comment I read on a message board.
Children are amazing imitators of adults they want love, attention, and affirmation....now I have never bought into the idea of children being preachers....There's something about it that don't jive with me....Take the kids in the video..... Do they understand the serious doctrines and theologies they're shouting about?Is it possible to preach with authority if you haven't experience anything? Don't those who preach to others must first preach to themselves? (Ro. 2:21; 1 Cor. 9:27). I don't believe a child who hasn't developed critical thinking nor been educated can preach the true word of God.....now
what's most recognizable in the video are the styles of preaching and the content of what they are saying....to me they are saying absolutely nothing..... Do you think children can teach Bible lessons that don't conform to the beliefs of their own church or group? Can a child out line a sermon? I doubt it...What do you think about children preaching?